Need help making technical decisions for your Business?  Business Service is what we do best!  We want to see the local businesses thrive in the rural communities of Middle Tennessee.  That is what sets us apart from the large national providers.  We support our local businesses and offer solid technical advice that will help your business succeed.  Technology should add value to your business not take away revenue.
Here is a quick case example of how we helped one business client.
The new client is a single location with two operating businesses: a fuel station and sandwich shop. The previous internet service provider required two satellite dishes to serve both sides of the business.
When a business requires a secure reliable internet service to process credit card payments, it cannot run the risk of having a weather related outage, excessively high latency, or limited upload speeds.  All of these limitations can cause payments to fail resulting in frustrated customers, stressed clerks, and lost revenue.
While the next generation of satellite service did much to compress the download and give the appearance of faster speed, it is still a very high latency solution with a very minimal upload. In addition, because of the high frequency and distance of the radio connection, it will always be impacted by the weather.
The customer called Tennessee Wireless for help.
When they technicians arrived onsite they performed the following speed test to check the current connection.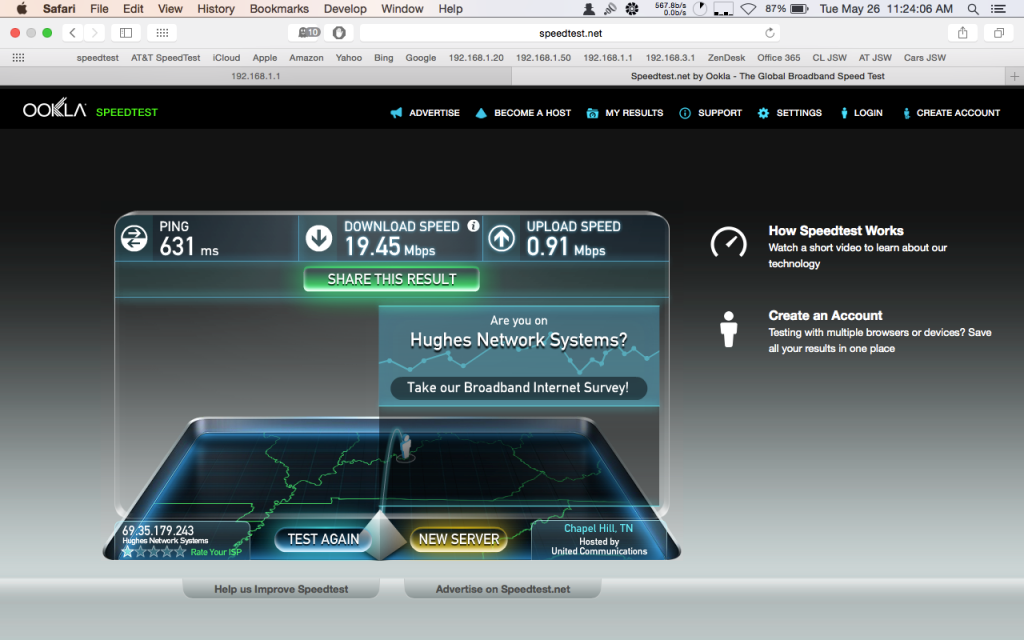 Fortunately, the client was located within the Tennessee Wireless service area near the Hurricane Mills' Access Point. The technicians were able to install this customer on a new business class service.  Tennessee Wireless is a local company who understands how good network engineering benefits our clients' business.  As such, we were able to provide expert advice on what equipment was needed and how it should be configured to maximize the performance and reliability of both the internal customer network and the connection to the internet.
The technicians were able to install a single radio to serve both locations and provide 24/7 network monitoring at a lower price.  The total performance available at the site is shown below.
The results to the customer is a network that provides more speed that keeps the connection from dragging down when processing the client credit card orders, less latency that provides a better surfing experience, and a monitored reliable connection that does not cut out due to bad weather, making the network available when it is needed.
If you have network performance or internet needs, call Tennessee Wireless today at (931) 729-4090 or click the Contact Us link above.